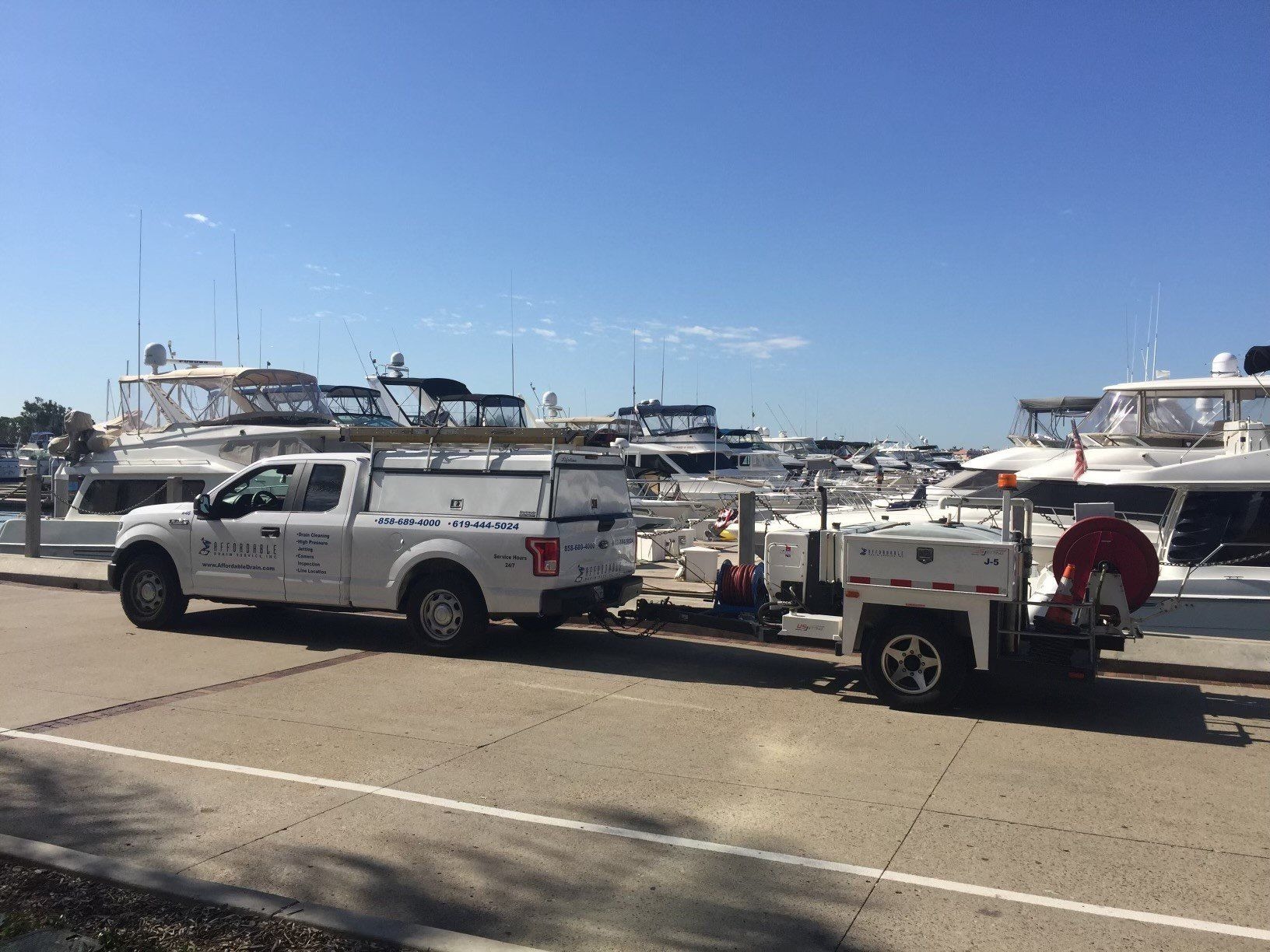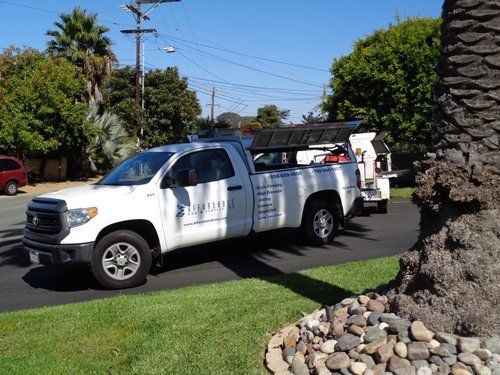 Clogged Sink? Problem Toilet? Slow-Draining Tub?
Don't waste your money on those harsh chemicals that don't work. Call the drain-cleaning experts. Affordable Drain & Pipeline Services is the leader in San Diego for all of your drain cleaning needs. We specialize in clearing those tough clogs. We can free up your stopped drain quickly and effectively for an affordable price. We specialize in drain cleaning, not basic plumbing repairs. Call 858-689-4000 for prompt and professional service anywhere in the San Diego, CA area.
SERVICE HOURS:
Monday – Saturday 7:30 AM – 10:30 PM | Sunday Closed

Sewer Main Hydro Jetting
"The HOA hired Affordable to hydro-jet the sewer mains, laterals, and storm drains in the parking garage. Ryan Guthrie was prompt, courteous, hardworking, and was excellent at explaining problem areas w/the camera, so the HOA Board can be informed."
Linda R.

Clogged Shower Drain
"Luis and his partner were fast, efficient, and incredibly professional. Would highly recommend! I called Affordable Drain Services due to clogged shower drain. The team was professional and responsive, and were able to quickly get me into their schedules. They provided a 2-hour wait time, and the crew that came to my house were on time and provided excellent communication while they were on the way. "
Erin T.

Cleared Our Sewer Clog
"They arranged a same day visit with me (12 noon - 2 pm window - they came right at noon). We had one shower clog and one slow draining sink. The shower was $125 and then they threw in the sink for free since they could fix it quickly with a zip-it instead of snaking it. Kevin and Dylan were respectful and did what we needed. Will use this company again!"
Alyssa S.

Home Main Line Repair
"Kenny was excellent! We had a problem with the main line, the whole house was out of service. We called them in the morning and by noon it was all solved. The technician was very knowledgeable and explained to us the problem and what cause it, so now we know how to avoid it in the future. We are definitely going to continue using their services and I would recommend them to anyone."
Marlen S.

Camera Inspection
"I have used Affordable Drain a few times over the last 15 years. This is the most professional and honest drain business you will encounter. (There are a few out there that will do some bait and switch.) On my most recent service call, I had a huge mess in a guest bathroom that was the result of tree roots getting into the pipes. They used a camera, figured it out super quickly, and took care of the problem. The price was reasonable."
Melanie K.

Home Inspection Service
"Ordered a New Buyer Home Inspection service. We had an excellent experience with Greg, our technician. He was extremely helpful, his communication was clear and he really knew what he was talking about. The clients had an understanding of the condition of the drains and were able to negotiate repairs based on his report and the USB recording of the camera film of the lines. I will use them again when the need arises. Thanks Greg!"
Lisa D.

Cleaned Our Home Drains
"This is the first time we have used Affordable Drain Service and hired them to clean all the drains in our home. We were very pleased with them. Joshua showed up right on time, reviewed the work, and did a great job. We would definitely use them again."
Angelie G.

Quickly Fixed Our Clog
"Very professional. Affordable Drain & Pipeline Services recommended by Katie the Plumber. We called and Eddie came out the same day. Fixed our clog fast, took pics etc. and got a 30 day Guarantee as it was fast to fix. We would definitely use them again."
Susan S.

Great Experience
"Had an urgent need for my condo in La Mesa. Affordable drain was able to schedule service the very next day. Technician Rob was on-time, and professional. He was able to explain what was going on, how to fix it, and preventive steps in the future. Overall a great experience. I would rate 10 stars if I could!"
Marty M.
Why Choose Affordable Drain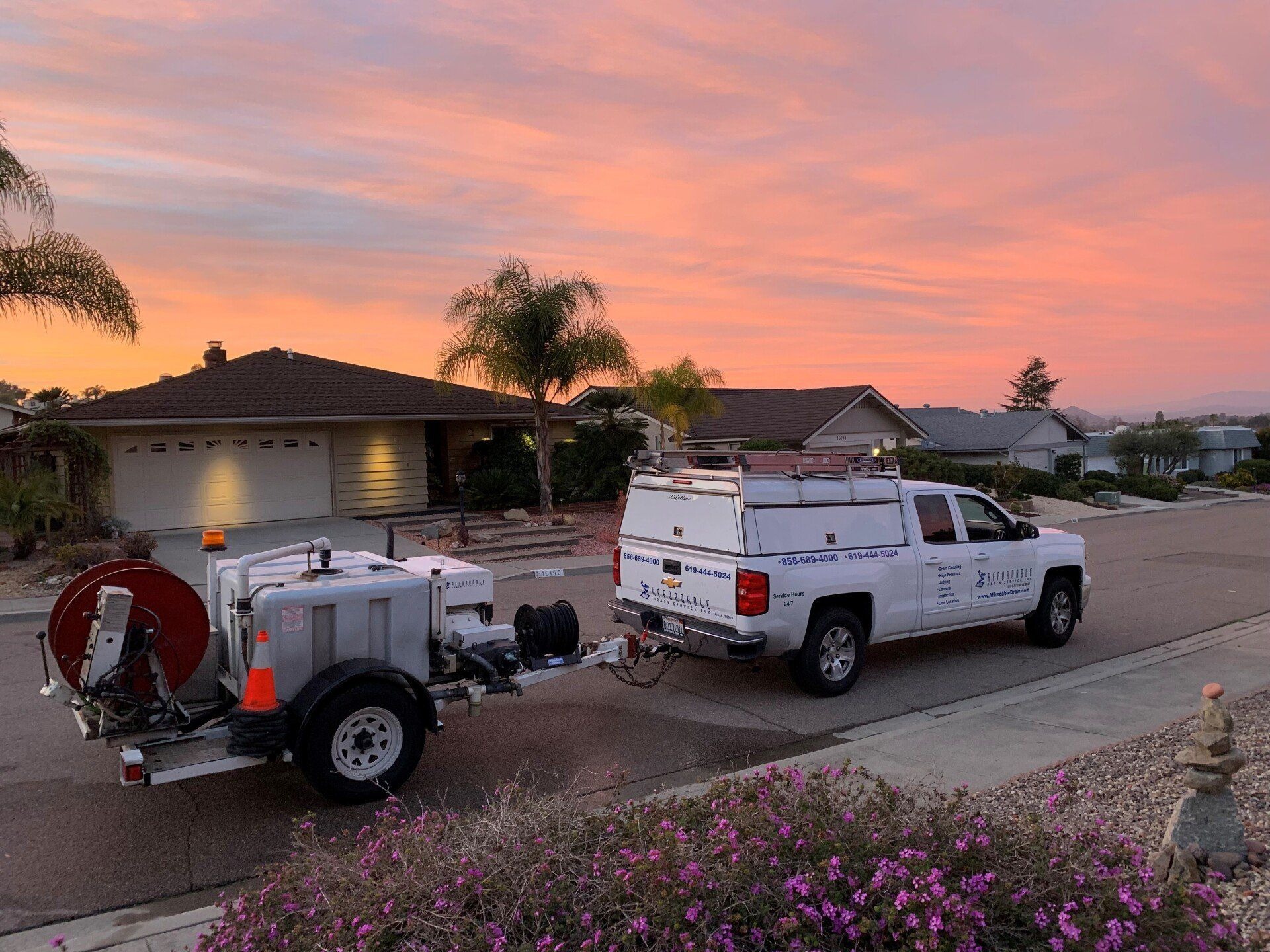 Affordable Drain & Pipeline Services is able to meet all of your drain maintenance needs in San Diego, CA. Our team of technicians has the proper experience and tools to diagnose and repair any sewer, storm, drain and irrigation lines that have become clogged or impacted with roots or other debris.
Drain Services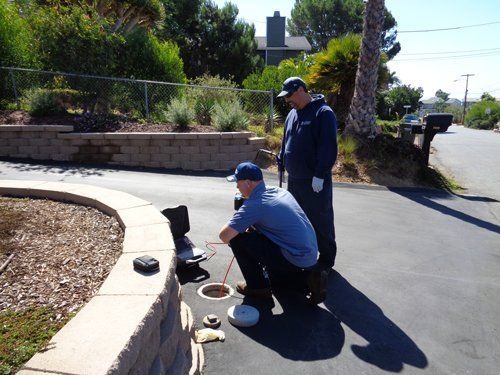 Pipeline Cleaning and Inspection
Affordable Pipelines' CCTV inspection equipment is specifically designed to inspect pipelines ranging from 6" to 180" and up to 1500' in a single run. Our pan & tilt cameras are mounted on a variety of transporters to traverse varying pipeline conditions to inspect as much pipeline as possible. We also have custom made float equipment to inspect pipelines between 24" and 180" where flow levels cannot be reduced. All CCTV inspections are recorded real-time onboard our state-of-the-art inspection trucks with the ability to immediately deliver data, video, pictures, and reports onsite to clients. This technology allows us to inspect pipelines from 6" to 180" with incredible clarity which enables us to document and identify trouble areas, document pipeline history, and schedule necessary maintenance.
Pipeline Services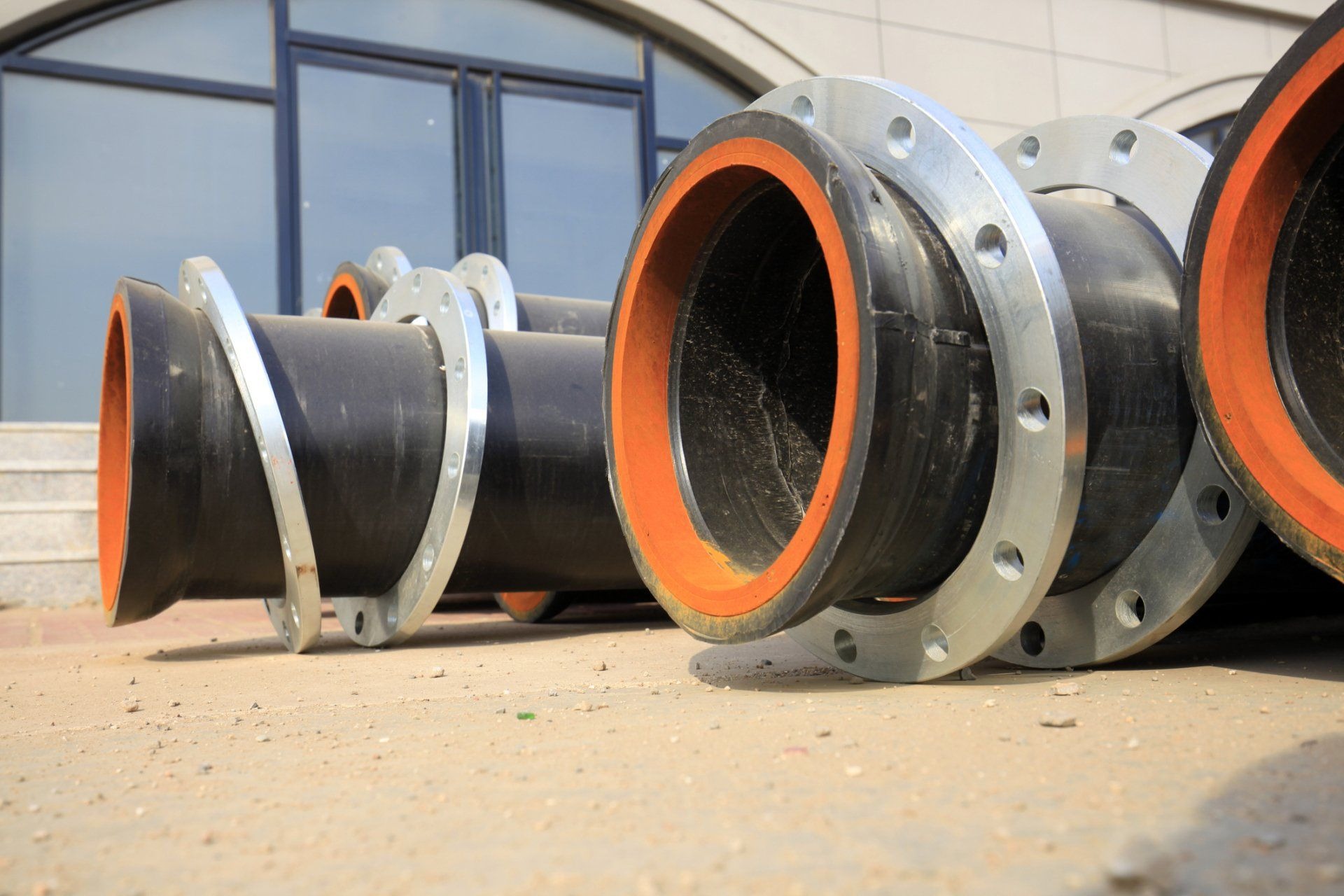 Pipelining
Trenchless pipelining is the process in which we repair broken or damaged pipes without having to dig a trench. This method minimizes the disruption and destruction of your lawn or yard while also providing a cost-effective repair solution. We use top-quality equipment to assess the damage before replacing or clearing the sewer pipe in question. Contact us today to learn more!
Clearing Away the Toughest Clogs
Hydro jetting can be used to remove even the largest and most stubborn clogs. We can use high-pressure water to blast the clog away.
Hydro Jetting
Cities We Serve
Allied Gardens

4S Ranch

Bressi Ranch

Cardiff-by-the-Sea

Carlsbad

Carmel Valley

Del Mar

Encinitas

Escondido

Fairbanks Ranch

La Costa

Leucadia

Oceanside

Olivenhain

Rancho Santa Fe

San Elijo Hills

San Marcos

Solana Beach

Vista

Bird Rock

La Jolla

Liberty Station

Mission Beach

Mission Bay

Ocean Beach

Pacific Beach

Point Loma

Sunset Cliffs

UTC / La Jolla

Allied Gardens

Bay Park

Black Mountain

City Heights

Clairemont

College Area

Coronado

Downtown

Encanto

Golden Hill

Grossmont

Hillcrest

Kearny Mesa

Kensington

Lincoln Park

Linda Vista

Little Italy

Logan Heights

Mira Mesa

Miramar

Mission Hills

Mission Valley

Normal Heights

North Park

Oak Park

Old Town

Poway

Rancho Bernado

Rancho Penasquitos

Rolando Village

San Carlos

Scripps Ranch

Serra Mesa

Skyline

Sorrento Valley

Talmadge

Tierrasanta

University City

Bostonia

Del Cerro

El Cajon

Fletcher Hills

Granite Hills

Hillsdale

Jamacha

La Mesa

Lakeside

Lemon Grove

Mount Helix

Santee

Spring Valley

Winter Gardens

Bonita

Castle Park

Chula Vista

East Lake

East Lake Greens

Imperial Beach

Lynwood Hills

National City

Otay Mesa

Paradise Hills

Rancho Del Rey

San Ysidro